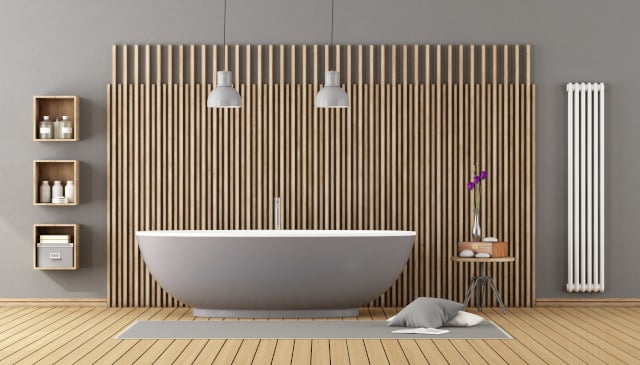 Just because there aren't thousands of dollars available for decorating doesn't mean that a bath can't be unique, dramatic and thoroughly satisfying. Here are a half dozen frugal ways to spice up any bathroom.
[wp_ad_camp_2]
1. Collections of inexpensive mirrors add both light and space to any bathroom. They reflect colors, faces and other decorations and add character and interest. Mirrors are much more effective when grouped together rather than being a scattered mass simply hanging on a wall.
2. Pictures or prints can be massed on a wall. For maximum impact hang them closely together rather than separated. Pictures can be striking if they have a 'theme', such as:
The frames or photos have a uniqueness in common – oval shapes, women only, pets
This decorating tactic works best in a powder room, rather than a full bathroom, because of the high moisture.
3. Needlework makes a striking wall accent. For instance, sampler patterns from Colonial America are easily available and a few samplers grouped on a wall create a totally unique bathroom.
4. For color and charm, throw a rug on the floor. In a dull or drab bathroom, a rag rug or oriental carpet will add charm and beauty. Just be certain to use a non-skid pad underneath, especially if anyone will be stepping out of a tub or shower.
5. Collections can spark interest and admiration. Pottery is an unusual accent piece for any bathroom. Or you might consider old bottles, perfume atomizers, shaving mugs or other flea market collectibles.
6. Color is the quickest, cheapest and easiest ways to change any bathroom. Unusual colors on a bathroom wall, like melon, chocolate brown or peach, will add drama. Accents like brightly colored towels in a monochromatic bathroom will provide an outstanding accent. Add living color with plants or freshly cut flowers.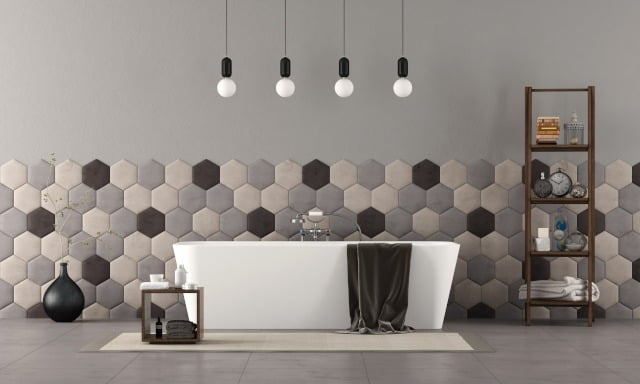 Home Decorating: Bathroom on a Budget
When it comes to home decorating there are few rooms that have quite the impact of a bathroom or kitchen when being decorated. There is something wonderful about taking a tired old bathroom and making it seem bright and shiny once again. Most people, however, cringe at the thought of a bathroom remodel fearing the absolute worst when it comes to their financial situation once all is said and done. The good news is that small steps can lead to big changes in rooms as small as bathrooms. These small steps do not have to have large prices in order to be highly effective.
My suggestion with a bathroom is to assess where the worst blemishes and eyesores may be. Painting the walls can be a good place to start but you should first decide whether you are planning to remove any cabinetry. This is one room where it is best to save the painting for later in the project rather than the beginning. The vanity in many bathrooms takes up a good deal of real estate. Gone are the days when chunky cabinets were the popular choice for bathrooms. Now people want the bathrooms to have the appearance of a wide-open space. This means that cabinets and vanities are becoming smaller rather than larger.
Most homeowners find that the removal of bulky cabinetry in the bathroom often leads to some degree of patching required for the drywall and noticeable gaps in flooring. These will need to be addressed fairly quickly, which means that now is a good time to select color options for the walls and flooring. Smaller bathrooms do well with lighter colors on the walls in order to give them a larger appearance. Use towels and decorations to bring in darker accents but keep the walls light and bright. Also choose paint that can withstand the high humidity of bathrooms.
Flooring in a bathroom also needs to be able to withstand high heat and humidity as this room is rather abusive to floors and walls. For this reason, hardwood is not the floor of choice for most bathrooms. Ceramic tile is an excellent choice and not terribly expensive. There are also some laminates that are designed to respond well to a high humidity environment such as will be found in a bathroom. Choose flooring that will accent the walls and the overall sense of décor you are hoping to achieve when decorating your home and bathroom, as this is not something you are going to want to change often.
The toilet in a bathroom is fairly simple to purchase but I recommend leaving it be unless it absolutely needs to be changed. This is not a simple procedure for the novice and experts are expensive. In this case "if it ain't broke don't fix it" is an excellent motto to live by. The same holds true with the shower. If, however, you simply cannot live with your shower (or bathtub) as is, you may want to try hiring professionals to come in and resurface your tub. This is much less expensive than purchasing a brand-new tub and will have yours looking bright, shiny, and as good as new. Again you can avoid the high cost of a plumber despite the fact that you are paying for professionals to resurface.
To top things off, you will be amazed at the difference that new knobs, fixtures, and hardware can make in a bathroom. Add a couple of lamps for subtle lighting and some decorative touches of your own and you have a brand new bathroom without spending a king's ransom in order to do so. The shower curtain and 'guest' towels should be your largest splurges in your bathroom, as they will tie the room all together. You shower curtains and towels will blend the colors and designs in order to create the overall atmosphere you should be hoping to achieve in your bathroom. And all of this can be accomplished one step at a time no matter how sparse your budget may be.
Monkey Bathroom Accessories are a Unique Decorating Idea
With the trend today toward larger homes, many people have multiple bathrooms in their houses. It can be difficult to come up with decorating themes for them. Or perhaps you have a smaller home, but want a truly unique idea for decorating your bathroom. Nowadays, people want their bathrooms to be one of a kind. With all of the various bathroom accessories on the market and available online, this is not difficult to accomplish.
One theme you may not have thought of is using monkey bathroom accessories. This can be an especially appealing idea for a home with children-monkey bathroom accessories in a child's bathroom will make him smile every time he enters the room! While there are many monkey bathroom accessories that children will enjoy, there are also some surprisingly sophisticated ones that are suitable for adults, also.
Monkey bathroom accessories for children may feature a large image of a monkey's face that will serve as a cute starting point for decorating the rest of the room. Monkey bathroom accessories with the face as the main design element are available in shower curtains and rugs. Just imagine how cute it would be to have a monkey shower curtain and a monkey rug in your child's bathroom-you'll barely need anything else to finish off that room. You might want to choose some pretty brown towels to go with the theme, or search for bathroom accessories such as wastebaskets, soap dispensers, or tissue box covers in coordinating colors.
For adults, a monkey bathroom accessories theme can be surprisingly sophisticated. You'll find some beautiful towels in soft shades of brown and tan with images of monkeys on them. If you want to use the monkey bathroom accessories as a design highlight, look for other bathroom accessories in a coordinating theme-perhaps a jungle look, for instance. Bathroom accessories with green leaves or bamboo images on them could create a wonderful coordinating look.
Also consider looking for unique ways to tie other things into your monkey bathroom accessories. You could buy monkey soap, for instance. Some people like to collect monkey figurines of various shapes and sizes and these could be an adorable starting point for your monkey bathroom accessories. Think how cute it would be to line a vanity shelf with a collection of monkey figurines, especially if they were arranged next to a rack full of monkey towels. You could even go a step further and find wallpaper with a bamboo or jungle theme to tie the whole thing together. Paint the trim in hues of green or tan. If you have room, hang some plants or place them on a shelf.
With just a little effort and some cute monkey bathroom accessories, you can have a unique bathroom for your children or even yourself that will evoke the feel of a lush jungle. Getting ready for your day will be an adventure every morning! Why not try something different for you next bathroom decorating?
Christmas Decorating: Create A Lifelike monkey bathroom accessories
If you love to go all out with your Christmas decorating, here is a whimsical, original idea for your bathroom:
Materials needed:
White shower curtain, canvas, or fabric (a new canvas drop cloth works great)
Shower curtain liner (to protect curtain from moisture)
Projector*
Permanent black marker, preferably a thick one
Paint pens
Paint
Fiberfill or cotton balls
Santa hat
Black felt (about one yard)
2 red hand towels or red fabric
*If you can draw, you may not need the projector. If you are not artistically inclined, and do not already own a projector, see if you can borrow one.
Let's get started!
If you're using fabric instead of a shower curtain, you'll need to make it standard shower curtain size, which is about 72″ x 72″. Cut the fabric 73″ x 73″, fold each side over one half inch, press into place, and hem each side to make smooth edges. Purchase plastic rings (usually found near the curtain rods) and sew them to the top for shower curtain rings. If you don't already have a second rod, pick up a tension rod. They are inexpensive and simple to install.
The next step is finding a great picture of Santa Clause. Look in coloring books, storybooks, or online. Once you find a picture you like, blow it up on the projector until Santa looks life-sized. Hang the fabric or shower curtain on the wall or a door with thumbtacks or straight pins, and project the image onto it. Santa's knees should be about 6″ from the bottom of the shower curtain. Stop at the knees and do not draw the rest of the legs (you will see why later).
Next, trace the image with a permanent black marker (put paper behind the curtain to keep marker from seeping through). Fill in the details for Santa's face as well as other intricate areas with the paint pens. Fill in his suit with paint. Nearly any kind of paint will do, but craft paint is the least expensive.
In order to create a three dimensional effect, use fiberfill or stretched out cotton balls for Santa's hair and beard. Apply with regular school glue or use fabric glue. Use a real Santa hat instead of painting one. These can be found at dollar stores and discount stores for very little money. Simply stitch the hat onto the curtain from the backside, or attach it with fabric glue.
Add a piece of black felt for Santa's belt. A real buckle makes a nice touch. You can remove a buckle from an old belt that you no longer wear and thread the felt through it, or you can purchase a used belt at a thrift store and simply remove the buckle to use it for this project. Stitch the felt into place or apply with fabric glue.
Hang the curtain and tuck the bottom edge inside the tub. Santa's knees should line up closely with the edge of the tub.
Here's the really fun part: Fold the red towels in half lengthwise and stitch or glue the sides together. If using fabric, cut to the size of regular hand towels (not fingertip towels) and proceed as directed above. Next, arrange the towels so that the attached edges are in the middle instead of along the side then press into place with a warm iron. This seam should face the shower curtain so it won't show. Stitch or glue the towels to Santa's knees. Santa now has three-dimensional legs that swing when the curtain moves!
Make mittens and boots from the leftover black felt. Attach the mittens to the curtain and the boots to the towels. Another neat idea is to set a pair of boots outside the tub and tuck the "legs" into the boots. This looks terrific and makes the effect even more dimensional. This idea is best used in the guest bathroom or on the day company is coming, after everyone has showered, if used in the main bathroom (otherwise, you'll have to keep moving the boots each time the tub is needed).
To make your shower curtain even more festive, wrap small empty boxes to look like gifts and attach them to the curtain, or sew on tiny plastic ornaments or candy canes. Just use your imagination.
This is a fun, yet fairly simple project to complete, and you will get lots of compliments on this unique, whimsical decorating idea.
[wp_ad_camp_4]