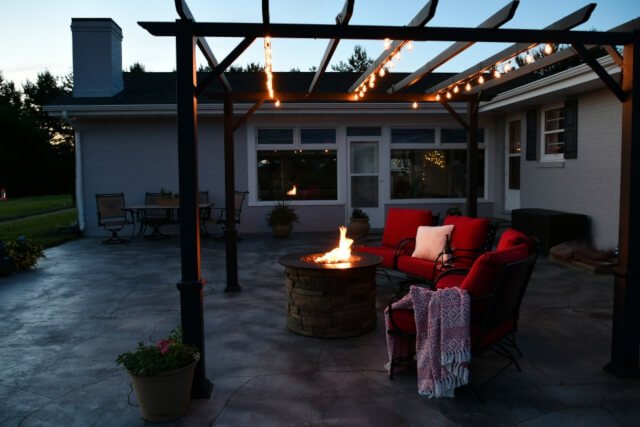 A patio can be just like another room in your house. Effective patio design can mean that your increase the floor space of your home, by adding an outside room that allows you to entertain like never before. A patio can just be a rectangular slab of concrete with some plastic chairs and griller, but it can also be so much more.
[wp_ad_camp_2]
What comes to mind when you think of a patio?
Patio design gives you the opportunity to create an outside living area – an extension of your home – for entertaining and relaxing all year round. For instance, people who like to entertain may want to consider a patio with an undercover kitchen and dining area. By adding a barbecue grill, a built in fridge and some quality outdoor furniture, the patio can, in itself, become a feature of your home.
When commencing a new patio design, it is important to remember that your new outdoor entertaining area does not need to be expensive. There are a variety of different patio surfaces to fit a particular style or budget, including concrete pavers, natural clay stones and bricks. There is no need to stick to one type of paving or surface – experiment.
Pebbles, gravels, bricks and tiles, can all be incorporated. A contrasting brick edge can also be effective. Similarly, patio shades need not be extensive, just enough to cover the main cooking and eating areas; after all, why block out the view of your gorgeous garden in the midday sun or the stars in the sky on a clear night.
Consider textures, colors, and materials before starting
One of the most important considerations of patio design is landscaping. Plants help to soften the hard surface of a patio floor by providing color, texture and fragrance and they set the mood for an outdoor living space. Further, you might also like to consider the use of a water feature and some soft low voltage lighting or candles, to create a stunning patio setting for night time entertaining.
Finally, selecting the right furniture is the key to the perfect patio design. There is no need to spend thousands of dollars on the right setting; more importantly you want to select items that are durable, basic in color and rich in style and sophistication. Consider resin coated wicker or rattan pieces that can be dressed up with different cushions and throw rugs. These items can be changed regularly to cater for a themed party or more simply, to match the changes in your flourishing flower beds.
A patio design can be as elaborate or as straightforward as you want it to be. Patios can be arranged in any shape and size and can be refreshed regularly just like the interior of your home. Outdoor entertaining is an increasing pastime – enjoy it with family and friends!
[wp_ad_camp_4]