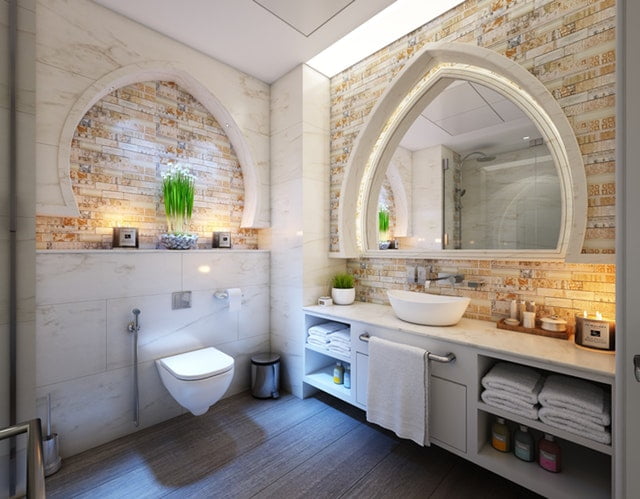 It is true, a small bathroom poses many challenges. In fact, having a small bathroom and trying to fit a toilet, sink, shower, or bathtub is similar to doing a difficult 2000 piece puzzle. Some of the challenges include building code regulations that have specific requirements for sinks, toilets, and tubs. Then there is also the challenge of where to put bathroom supplies such as toiletries, towels, tissues and so forth.
[wp_ad_camp_2]
Even though a small bathroom does dictate many challenges, most homeowners still believe it is better to have an extra small bathroom when needed. Therefore, if you decide that your home needs an additional bathroom, even a small one, this article will provide you with a few interesting suggestions and tips to help design that perfect little bathroom.
Corner Sink
There are times when even adding a small pedestal sink can cause major space issues in a small bathroom. One alternative is to incorporate a corner sink directly across from the toilet. This configuration works better than having a sink opposite a shower because it is always awkward to get around an open shower door.
Toilet Topper
There is always wasted space above a toilet tank. Therefore, a toilet topper cabinet/shelf is the perfect place to store all of those extra bathroom accessories and necessities. Remember to purchase one that is white or a light color because the color will definitely affect the perception of making the room look larger or smaller.
Shower Curtain/Door
If you decide to install a shower or bathtub into your small bathroom, you have two options to make it work. A tub or shower that has a swing-out door will make it difficult to maneuver whereas a shower curtain or a glass panel that covers one half of a bathtub will make access manageable.
Towel Bar/Ring
A bathroom without a towel bar is a bathroom that is inconvenient to use. Towels need to hang on a bar or ring so as to dry properly when not in use. If the bathroom does not have any wall space for a towel bar or ring, try mounting the towel bar or ring on the shower door or glass panel.
Trough Sink
A narrow, slick styling trough sink is a great space solution. They have a low profile and when they are mounted on the wall they provide additional floor space for foot traffic or storage.
Wall-mounted faucet
A wall-mounted faucet will allow you to use a narrower vanity or sink and this will free up valuable space in a small bathroom. Wall-mounted faucets come in a variety of styles and designs to coordinate with any decor that you may have in mind.
Shower/Tub
If your small bathroom is going to be an additional bathroom then you may want to forgo a shower or a tub. However, if you must have one or the other then choose an enclosed shower because they are traditionally smaller than even a half size bathtub.
The above are just a few of the many ways that you can make a small bathroom work. Of course, you will need to do some serious planning to make sure that everything is to code and fits properly.
[wp_ad_camp_4]